What is

Skillshare

?
Skillshare is an online learning platform where the students subscribe (monthly or yearly) and get access to ALL the lessons posted there. It's an awesome place to learn (practically about everything, you're not boxed into watercolors, you will find whatever you want). If you subscribe through my link I get a bit of support from the Skillshare platform for bringing you in and you get 2 months of free trial of their premium membership. Much like other platforms (Amazon Prime, Netflix etc..) you can try it for FREE and then just say "no" when the trial period expires and you won't have to subscribe again or pay any money. It's a great opportunity to watch my class, help me grow as a teacher and learn a lot.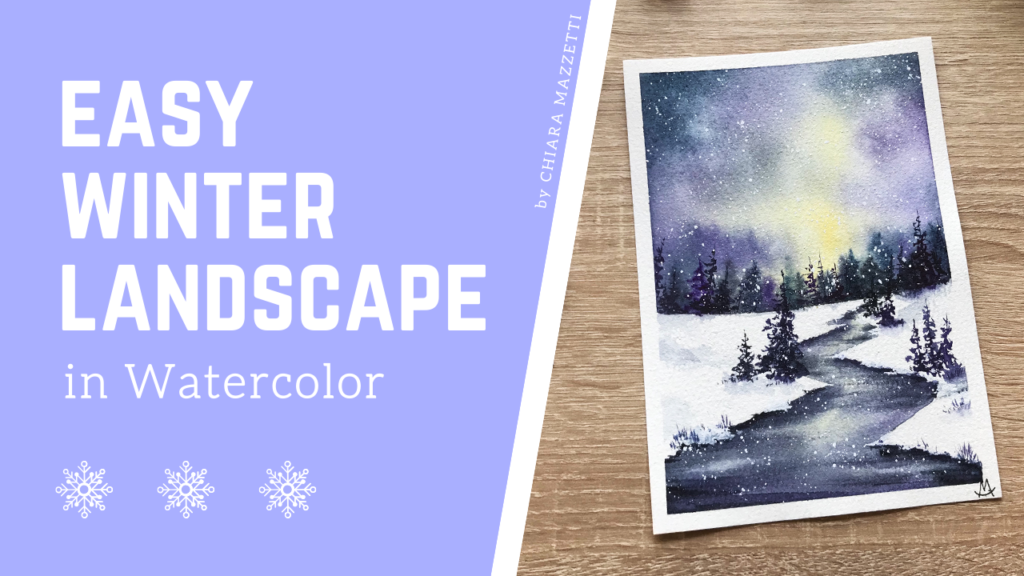 Easy Winter Landscape in Watercolor
Winter is here and i thought it would be great to recreate its mood with watercolors .
In this class you will learn to paint a frozen river surrounded by a forest and a lot of snow! You will only need 4 colors to create this magical atmosphere.
This could be a perfect handmade present for yours loved ones, gift them with a paint for Christmas, it's original and i think it holds a huge emotional value
Are you in? Let's go!
Easy Watercolor Landscape
Are you wondering how to paint expressive skies full of colors and clouds? Did your pine trees turn out to be a bit different than you first imagined? I got you covered!
In this class i will show you how to paint skies and trees through exercises and in the end we will put all the techniques together to paint a beautiful landscape in watercolor.
This class is suited for everyone no matter what your starting skills are. I will guide you towards the completion of the painting, explaining my way step by step.
Let's have some fun!
Paint a typical Tuscanian Landscape
Welcome to my second Skillshare class in which you will learn to paint a typical Tuscanian landscape using watercolors! This class is suited for everyone and I will guide you towards the completion of the painting step by step, carefully talking you through all the techniques and the little tips and tricks I use to get the best out of a painting. With this class i hope to let you savor the Tuscan atmosphere and bring you a piece of this beautiful country. Are you ready? So, let's get started!
How to Paint Easy Watercolor Seascapes
In this class you will learn to paint two watercolor seascapes. I will teach you how to paint the sky and the sea at different times of the day: daytime and sunset.
During the first few lessons I will go over the supplies needed and then I will show you the basic techniques you're going to use later with helpful examples you can try out yourself to train. After that you will apply the techniques you just learned to paint the seascapes along with me, step by step.