Supplies
You will need:
1 – The Sketch
I decided to crop and zoom the photo reference to best fit my ideas and sketchbook size: the focus is the dome.
Draw the outlines of the roofs, trying to be stick with the image especially in the foreground but not so perfect with every house.
2 – Ink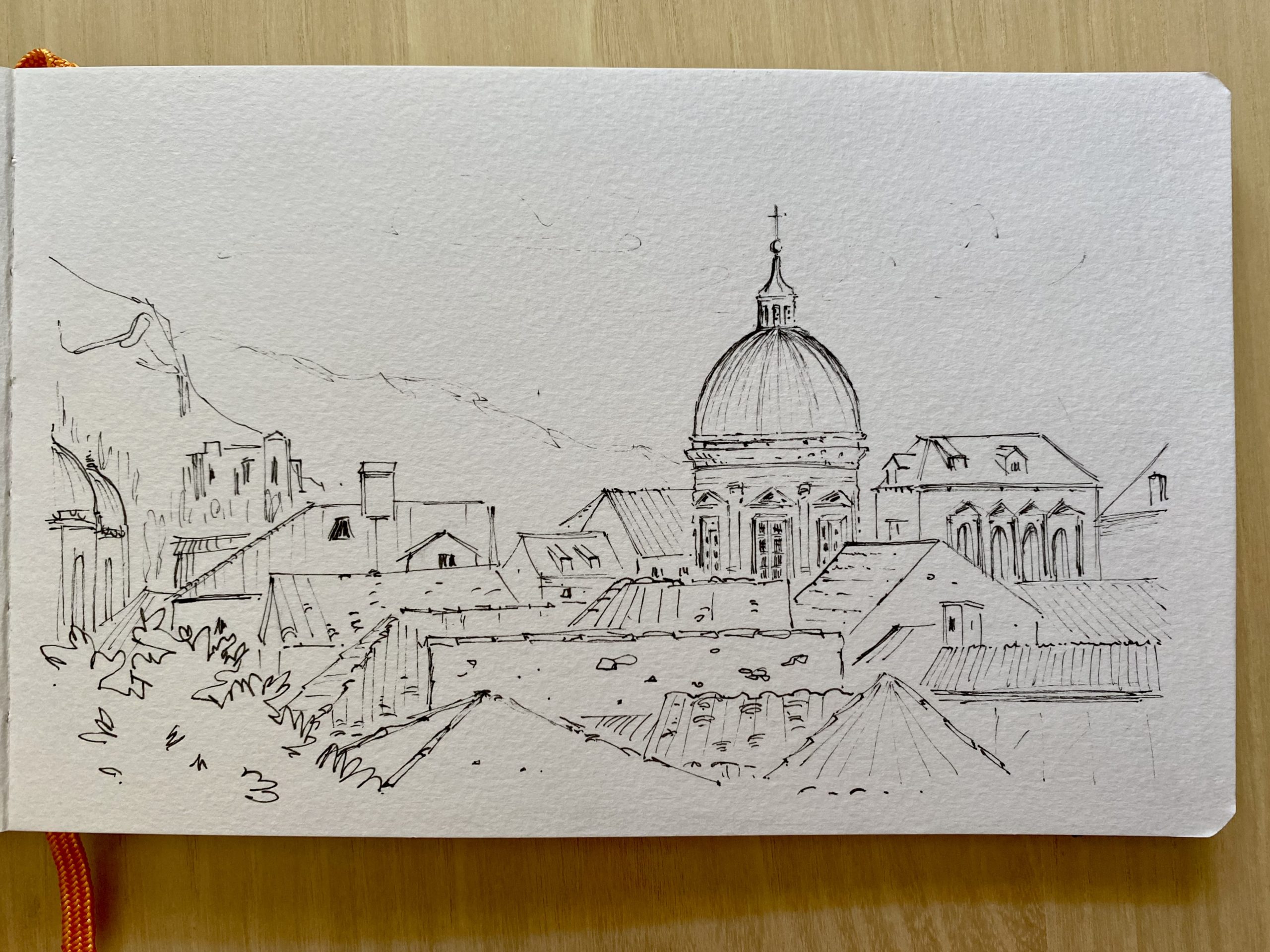 Go over your pencil adding more details using a fineliner 0.5/0.1 with waterproof ink.
Pay extra attention to drawing the details and columns on the dome and the building next to it.
Draw the texture of the walls and roofs and add tiles here and there.
3 – Sky and distant hill
I'm only going to use a round brush number 12 and the number 4 for the details.
With dark blue and a bit of Indigo make some marks in the sky leaving white spaces.
Go over the distant hill with green and Umber even letting some parts touch the sky.
With a small brush splatter first clear water on fresh colors and then, when the sky area is dry, with indigo. I love to create such stormy textures!
4 – First wash on buildings
With a mix of warm and cold colors start to define the "sea" of roofs and walls, changing very often the tone (red, orange, yellow, ochre, gray, brown, etc..)
The brown color of the dome is made with mixes and not with direct colors from the tube.
5- Shadows and details
Once the painting is dry i add greens in the foreground tree and in the distant mountain.
With grays i go over the shadow sides of every building to make a 3d effect on paper.
With a white pen i define some light details on roofs with simple marks as lines or little arches.
To define the building on the distance (left) i decided i would just drop some light blue and that's all.
With some strong black lines i emphasize shadowy areas going over some previous drawing marks and i also put more ink on the windows of the dome and on the structure next to it.
As for the previous tutorial, here's the timelapse video to guide you while you paint this beautiful view!
Now take a picture of your amazing painting and, if you like, post it on social media!
Remember to tag me on Instagram (do it on the photo, not in the caption! This way i won't miss it) with @chiaramazzetti.art and put the hashtag #chiaramazzettitutorial, i'd love to see what you create!
Happy painting!
Chiara
List of watercolors (based on the brand i used for this painting: White Nights Nevskaya Palitra)