Supplies
1 – The Sketch
Tape down the watercolor paper on a flat surface.
Sketch the main subjects of the drawing like the cliff, the sea and the rock in it.
2 – The Sky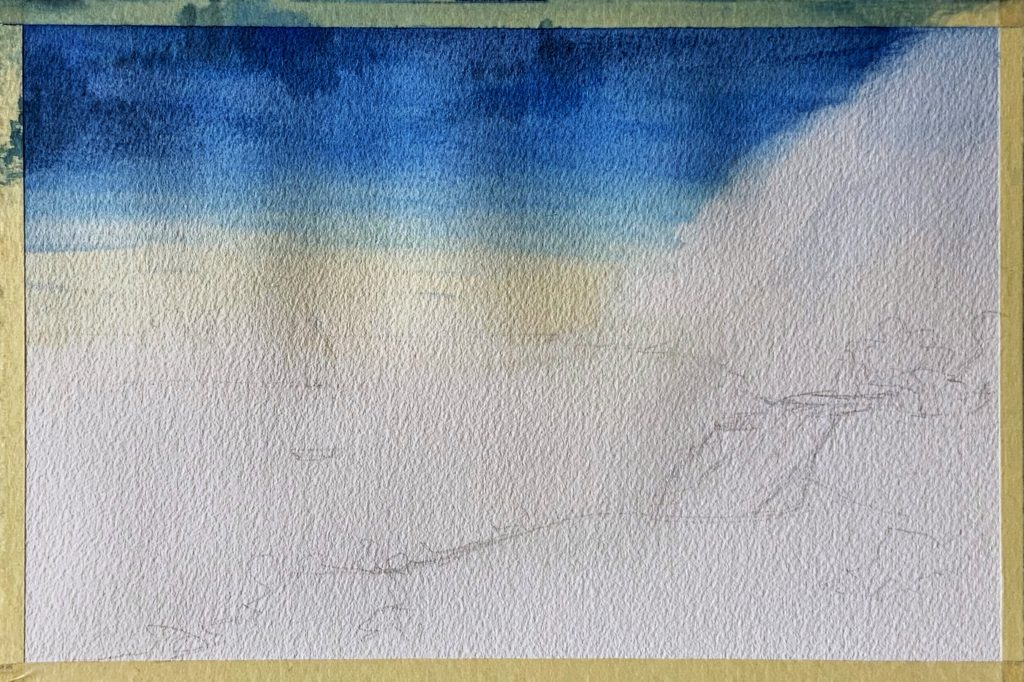 Using two different brushes prepare some Naples Yellow on one side of your palette and a mix of Ultramarine and Cerulean Blue on the other.
Wet the paper and wait 30 seconds before you apply any colors.
Start off with the Naples Y. using a flat brush and drag the color from bottom to top.
Use the mix and apply it in reverse way, from top to bottom, till you almost reach the yellow.
Flick a round brush to create blue stripes in the area the two colors meet each other. Don't overdo.
With a bigger brush pick up some Prussian Blue to shape the clouds.
3 – The Cliff
Time to paint the cliff now! Start over from the farthest areas covering them in Raw Sienna and Burnt Sienna plus a bit of Sepia to create a texture on top.
Don't wait for the color to dry this time and just go ahead and put some green on the cliff to define the area where some distant greenery is going to be.
To paint the foreground instead start with a wash of green and then give strength to the front with some fast brush strokes of Sepia, Raw Sienna and Perylene Violet to create the blades of grass and the different terrain.
Using the same colors from chapter 4.1, just with a higher value, finish off the foreground cliff.
4 – Details on the cliff
In the foreground add some trees, trying to give three-dimensionality to the tree crown making use of lights and shadows. You can paint the trunks with Sepia and Payne.
Finish the farthest cliff with intense strokes on the rocks themselves and on the greenery, trying to create differences on the colors.
Create crushing waves touching the rock in the middle of the sea and the edges of the cliff. To add a nice touch splatter some white drops to give the illusion of water splashes.
Sign the paint and it's done!
Final Result
If you try this painting remember to tag me on Instagram (do it on the photo, not in the caption! This way i won't miss it) with @chiaramazzetti.art and put the hashtag #chiaramazzettitutorial, i'd love to see what you create!
Happy Painting!
Chiara
List of watercolor names (based on the brand i used for this painting: Schmincke Horadam)